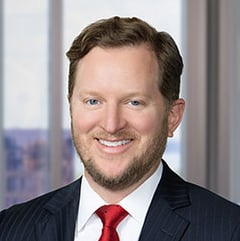 Christopher Nickels
Partner

Wisconsin, USA
Local Time: Saturday 12:50
Practice Expertise
Class Action Defense
Banking & Financial Institutions
Financial Institutions Litigation
Franchise & Distribution
Areas of Practice
Banking & Financial Institutions
Class Action Defense
Financial Institutions Litigation
Franchise & Distribution
Banking & Financial Institutions
Employment Advice, Counseling and Training
Employment Litigation and Dispute Resolution
Franchise and Distribution
Franchise, Distribution & Direct Sales
Health & Life Sciences
Hospitals & Health Systems
Hospitals and Health Systems
Internal Investigations and Compliance
Labor & Employment
Labor & Employment for Financial Institutions
Labor, Employment & Benefits
OSHA and Workplace Safety
Wage and Hour Compliance and Defense
View More
Profile
Labor and employment counsel with business objectives top of mind
Chris Nickels helps employers understand and navigate the technical and sometimes nuanced confines of labor and employment law and litigation. He helps them devise and implement strategic plans that address leadership, accountability, policies, procedures and training. Areas in which he advises clients include:
Workplace safety and OSHA matters
Leave and accommodation issues
Class action defense
Health and life sciences
Franchise
Corporate clients seeking to innovate and improve their talent culture look to Chris for his experience and practical advice. He considers their broader business objectives, resources and industry in determining which approach is best. Chris investigates, evaluates and develops an effective legal solution or litigation strategy for his clients, all while keeping a keen eye on budget parameters.
A frequent speaker on employment law issues, Chris often provides on-site, customized training for his clients. He has been recognized by the State Bar of Wisconsin for his pro bono work and commitment to the community.
Bar Admissions

New Jersey
Pennsylvania
Wisconsin
Education

University of Wisconsin - Madison (B.S., with honors, 2001)

Study abroad: London, England (2000)
Villanova University School of Law (J.D., magna cum laude, 2005)

Villanova Sports and Entertainment Law Journal (Managing Editor of Student Work)
Joseph R. Wenk Award for outstanding contribution to the Civil Justice Clinic
Areas of Practice
Banking & Financial Institutions
Class Action Defense
Financial Institutions Litigation
Franchise & Distribution
Banking & Financial Institutions
Employment Advice, Counseling and Training
Employment Litigation and Dispute Resolution
Franchise and Distribution
Franchise, Distribution & Direct Sales
Health & Life Sciences
Hospitals & Health Systems
Hospitals and Health Systems
Internal Investigations and Compliance
Labor & Employment
Labor & Employment for Financial Institutions
Labor, Employment & Benefits
OSHA and Workplace Safety
Wage and Hour Compliance and Defense
Articles
Additional Articles
"Cannabis and Employment Law"
"Developments at the National Labor Relations Board and Their Impact on Employers and Franchisors"
"Ethical Pitfalls in Employment Situations"
"Love It or Leave It: Embracing Leave Law Challenges Before They Strangle You"
"OSHA Considerations for Employers in Year Two of the COVID-19 Pandemic"
Biden Administration Takes Action to Expand Definition of "Employee" and Protect Gig Workers
Bill To Narrow Joint Employment Passes In The House
Browning-Ferris Joint Employer Standard Reinstated, For Now
Bye, Bye Browning-Ferris: NLRB Overturns Browning-Ferris Joint Employer Standard
California Employers Beware: Ninth Circuit Holds That Dynamex "ABC Test" Applies Retroactively
Chris Nickels Outlines Vaccine Mandate Considerations for Employers in Milwaukee Business Journal Article
Congress Bars Arbitration of Sexual Assault and Harassment Claims
Department of Labor Shifts Course on Joint Employment and Independent Contractor Classification
DOL Abolishes the 80/20 Rule For Tipped Employees
DOL Issues Final Joint Employment Rule
DOL Offers Additional Guidance Regarding FFCRA Sick Leave and Expanded FMLA
DOL Overtime Rule Officially Struck Down, What To Expect Next
DOL Proposes New Joint Employer Rule
DOL Restores the 80/20 Rule for Tipped Employees and Creates a New Employee Wage Protection
Employers May Voluntarily Extend Unused FFCRA Leave Benefits and Receive a Tax Credit Through March 2021
FFCRA Leave Provisions Effective April 1 and CARES Act Provide Relief for Small Businesses and Unemployed Workers
FTC Issues Proposed Rule Banning All Non-Compete Agreements
Getting Immediate Employer Tax Credit for FFCRA Sick Leave & EFMLA: IRS Releases Documentation Requirements and Expedited Process
Impacts of the American Rescue Plan Act on Employers and Extension of FFCRA Tax Credit for COVID-19 Related Paid Leave
Increasing Awareness of OSHA's Updated COVID-19 Guidance Important for Employers
Law360 Article by Chris Nickels and Tyler Roth Outlines Employer Considerations in Reacting to Employee Speech on Russia-Ukraine Conflict
Lights Out on Class Action Arbitration: What Employers Now Need to Consider
National Labor Relations Board Finds Employer's Offer of Severance Agreements Unlawful Due to Their Confidentiality and Non-Disparagement Provisions
New DOL Tip Credit Rule Clarifies When Managers can Keep Tips and Lays Hefty Fines for FLSA Violations
New Executive Order Limits Workplace Diversity Training Offered by Federal Contractors
NLRB Overturns Browning-Ferris Industries Joint Employer Standard with Sweeping New Rule
NLRB Returns to Its Long-Standing Independent Contractor Test
Open for Business? Navigating COVID-19's Impact on Reopening Businesses and Returning Employees to the Workplace
OSHA Issues New Guidance for Reopening Nonessential Businesses
OSHA Update: Work-Related COVID-19 Cases are Recordable, and Increased In-Person Inspections are on the Horizon
OSHA Updates its COVID-19 Guidance for Non-Healthcare Industries
OSHA's COVID-19 Emergency Standard for Healthcare Employers
OSHA's COVID-19 Recording and Reporting Requirements
President Biden's Impact on Employers in His First Three Weeks
Russia's War in Ukraine No Excuse for National Origin Discrimination
Supreme Court Decision Gives Businesses A Powerful Tool Against Employee Class Actions
Supreme Court Shifts FLSA Exemption Standard In Employers' Favor By Ruling Automobile Service Advisors Exempt
Temporary Non-Enforcement of Families First Coronavirus Response Act and Workplace Posting Requirements
What Should Employers Expect in 2022, Non-COVID Edition
Seminar
Annual Labor & Employment Law Symposium - Listen. Execute. Succeed.
Annual Labor & Employment Symposium
Annual Labor & Employment Symposium - Get the Big Picture
BREAKING - New DOL Overtime Rules Announced, Minimum Salary Of $47,476, What You Need To Know To Be Compliant
Developments at the National Labor Relations Board and Their Impact on Employers And Franchisors
EXTRA WEBINAR ADDED – New DOL Overtime Rules Announced, Minimum Salary Of $47,476, What You Need To Know To Be Compliant
Handling Difficult Disability Accommodation Requests
How Employers Should Handle Political and Divisive Speech by Employees
Open for Business? Navigating COVID-19's Impact on Reopening Businesses and Returning Employees to the Workplace
Post-Pandemic Spring Cleaning! Brushing Up on Important Employment Practices
Meet our Firms and Professionals
WSG's member firms include legal, investment banking and accounting experts across industries and on a global scale. We invite you to meet our member firms and professionals.