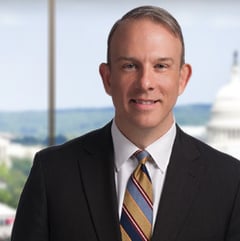 James Brandell, Ph.D.
Government Policy Advisor

Practice Expertise
Government Policy & Practice
Administrative Law & Regulation
Political Compliance, Elections & ...
Government Reorganization and Restructuring
Areas of Practice
Administrative Law & Regulation
Government Policy & Practice
Government Reorganization and Restructuring
Political Compliance, Elections & ...
FDA Regulatory
View More
WSG Practice Industries
WSG Leadership
Automotive Group - Member
Aviation Group - Member
Trade and Investment Group - Member
Profile
James Brandell is the leader of Dykema's federal government relations team. With more than 20 years of government relations experience on state, federal and international levels, Dr. Brandell has extensive experience crafting and implementing legislative and political strategy; attracting, managing and retaining talented staff; and developing and managing multimillion dollar budgets.
Dr. Brandell has a proven track record of advancing important issues through the legislative process, and has strong professional relationships in both major political parties. He has a well-developed network of diverse global and Capitol Hill contacts with senior staff, members of Congress, foreign diplomats, heads of trade associations, members of the media, as well as key state and local leaders across the country.
As Chief of Staff to Ways and Means Chairman Dave Camp for over a decade, Dr. Brandell led Chairman Camp's team on successful legislative issues, including trade agreement implementation, the first comprehensive tax reform bill in a generation, and health care reform proposals. He served as chief liaison with Congressional leadership and the White House.
Active in leadership roles at the state level, Dr. Brandell was Deputy Chief of Staff to Michigan Governor John Engler, where he served as chief liaison to all state and national political organizations and managed several administrative divisions within the executive office.
In addition, he worked overseas for an international nonprofit, where he opened its Serbia office, managing U.S. government grants in excess of $2 million. He conducted country-wide focus groups; helped develop public opinion surveys for use in national elections; and organized election monitoring missions.
Throughout his career, Dr. Brandell has spent significant time working on Congressional and Presidential campaigns. He managed major political activities for Chairman Camp, including fundraising and leadership PAC committees. He is also involved in numerous charitable efforts, including serving on the board of the Leukemia & Lymphoma Society in Washington, D.C.
Dr. Brandell has a bachelor's of arts degree in international relations from Michigan State University, a master's of arts degree in liberal studies in American culture from the University of Michigan, and a doctorate in public administration and public affairs from Virginia Tech University.
Education
Virginia Tech University, Ph.D., Public Administration/Public Affairs, 2019 University of Michigan, M.A., Liberal Studies, 1996 Michigan State University, B.A., International Relations, 1990
Areas of Practice
Administrative Law & Regulation
Government Policy & Practice
Government Reorganization and Restructuring
Political Compliance, Elections & Campaign Finance
Articles
Meet our Firms and Professionals
WSG's member firms include legal, investment banking and accounting experts across industries and on a global scale. We invite you to meet our member firms and professionals.