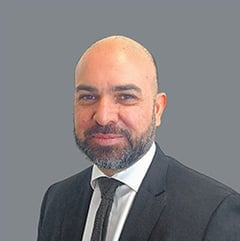 Johannesburg, South Africa
Local Time: Thursday 23:12
Practice Expertise
corporate commercial
BBBEE
domain names
data and information privacy and protection
Areas of Practice
BBBEE
corporate commercial
data and information privacy and protection
domain names
data privacy and protection
finTech
India
intellectual property
IT law
media
regulatory compliance: JSE/TRP/FSB
shipping and logistics
shipping, ports and logistics
technology, media and telecommunications
technology, media and telecommunications ...
View More
Profile
Ridwaan Boda is an Executive in ENSafrica's Corporate Commercial practice, where he heads up the TMT team. He is also a member of the United Nations Global Pulse Panel of International Data Privacy Experts.
Ridwaan has considerable experience and expertise in the TMT arena, having worked and advised on some of South Africa's largest and most prominent information and communications technology ("ICT") transactions.
Ridwaan has advised and acted on behalf of various listed companies, state-owned entities, quasi-government corporations, and public sector bodies in a wide variety of sectors, including financial services, petrochemicals, retail, health care, pharmaceutical, technology and resources.
He also has significant global experience, having worked in the United Kingdom and on a number of multijurisdictional matters.
Ridwaan's experience and expertise in the field of ICT law includes advising on large-scale ICT outsourcing transactions, complex systems integration projects, as well as other large-scale ICT projects. He has drafted and negotiated numerous commercial and TMT-related agreements, including those relating to outsourcing, ICT procurement, software, hardware, systems integration, consultancy and "body-shop", cloud-computing, teaming and collaboration and IP-transfer agreements, as well as IT policies and procedures.

Ridwaan also assists clients with their ICT-compliance requirements and has advised clients on legislation pertaining to TMT law, including the King III (IT Governance), the South African Promotion of Access to Information Act, data privacy and protection legislation (including the Protection of Personal Information Act), the Electronic Communications and Transactions Act, the Electronic Communications Act and other relevant legislation.
In addition, Ridwaan has experience in advising on private security industry laws, having assisted various clients with compliance with such laws, as well as on security services transactions. He has advised a major bank in relation to the bank's cash operation's agreements, including those related to physical security of cash, cash-in-transit, cash processing and associated technology and service agreements.
He has also advised clients in relation to a number of telecommunications regulatory and contractual matters involving, inter alia, the Independent Communications Authority of South Africa ("ICASA").
He has assisted clients in relation to transfer of licence and change of control issues under the Electronic Communications Act and was part of the team that advised a major telecommunications company in relation to its acquisition of a major IT company, including in relation to the transfer of licence/change of control issues emanating from the transaction. He has also advised a global European telecommunications company on local ICASA compliance requirements and submissions.
Ridwaan is an Advisory Council member for the Innovative Law Club Africa (ILCA). As an Advisory Council member, Ridwaan provides strategic guidance to the ILCA, engineering partnerships, and collaborating on special projects.
Education

BCom (University of the Witwatersrand)
LLB (University of the Witwatersrand)
LLM (University of South Africa)
Admitted as an attorney of the High Court of South Africa
Areas of Practice
BBBEE
corporate commercial
data and information privacy and protection
domain names
data privacy and protection
finTech
India
intellectual property
IT law
media
regulatory compliance: JSE/TRP/FSB
shipping and logistics
shipping, ports and logistics
technology, media and telecommunications
technology, media and telecommunications (TMT)
Professional Career
Professional Activities and Experience
Ridwaan is recognised as a leading/recommended lawyer by:
Chambers Global Guide 2023, 2022, 2021, 2020, 2019, 2018, 2017 – IT and Telecommunications; 2016, 2015 "up and coming" – IT and Telecommunications; 2021, 2020, 2019 – Fintech (South Africa)
Client Choice Awards 2019, 2016 – IT and Internet (South Africa)
Best Lawyers® 2023, 2022, 2021, 2020, 2019 – Lawyer of the Year - Information Technology Law (South Africa)
under Ridwaan's leadership, ENSafrica's TMT Team was awarded the TMT Team of the Year in Africa at the African Legal Awards for 2013 and 2014
Articles
Meet our Firms and Professionals
WSG's member firms include legal, investment banking and accounting experts across industries and on a global scale. We invite you to meet our member firms and professionals.