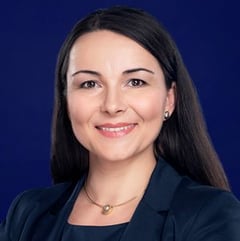 Bratislava, Slovakia
Local Time: Thursday 15:01
Practice Expertise
Administrative Law
Banking & Finance
Commercial Law
Corporate and Business
Areas of Practice
Administrative Law
Banking & Finance
Commercial Law
Corporate and Business
Employment and Labor
Energy
Mergers & Acquisitions
Privatization
View More
WSG Practice Industries
WSG Leadership
Automotive Group - Member
Banking & Finance Group - Member
Employment and Labor Group - Member
Energy Group - Member
ESG - Environmental, Social & Governance Group - Member
Gaming/ Gambling Group - Member
Insurance/Re-Insurance Group - Member
Mining Group - Member
Technology, Media & Telecommunications Group - Member
Women's Professional Forum Group - Member
WSG Coronavirus Task Force Group - Member
View More
Profile
Simona is a partner at Cechova & Partners as of 2008. She is a member of the Slovak Bar Association since 1998, has joined the firm in 2000 and passed the Bar exams in 2001. During her nineteen-years practice Simona gained significant experience and expertise in the area of banking and finance regulatory law and successfully assisted to a number of domestic and foreign financial services clients, including international banks and multinational financial institutions active in the fields such as banking, finance, trading with derivatives and securities, payment services, collective investment, insurance & reinsurance, financial intermediation, etc. Simona has been also instrumental in advising various clients from energy and network industries sector on specific aspects of Slovak and EU regulatory framework, including areas of nuclear power sector and renewables, and has also actively participated in several transactions and projects in the area of exploration and production of oil and gas. Simona has also gained significant experience in the area of M&A and privatisation transactions, while serving to various international and domestic undertakings being active mainly in banking, telecommunications, construction and automotive industries, engineering, gambling and private equity sectors. Simona has successfully acted as a project leader in a number of asset and business transfer projects and transactions, including corporate reorganizations, transfers of employees and outsourcing projects. Her expertise also covers areas of electronic communications. Simona regularly advises clients on the various aspects of corporate and commercial law.
Bar Admissions
Slovak Bar Association
Education
Law Faculty of Comenius University, Bratislava, Slovakia (Graduated, M.A. 1998)
Law Faculty of Comenius University, Bratislava, Slovakia (Graduated, Dr. Jur., 2001)
Areas of Practice
Administrative Law
Banking & Finance
Commercial Law
Corporate and Business
Employment and Labor
Energy
Mergers & Acquisitions
Privatization
Professional Career
Significant Accomplishments
Active participation on advising three major investment funds in the dispute arisen in the process of the second wave of coupon privatisation, including practical litigation experience from numerous court hearings;
Participation on a number of mergers and acquisitions, including due diligence examinations in target companies dealing with analysis of regulatory compliance, banking regulation, contracts and real estates;
Participation on advising an Austrian bank in the acquisition of shares in a first private bank in the Slovak republic;
Participation on advising a leading European bank in bidding for the acquisition of a majority stake of shares in the privatisation of the largest Slovak savings bank;
Participation on advising an Italian bank in the successful tender for the acquisition of a majority stake of shares in the privatisation of the largest commercial bank in Slovakia;
Participation and assistance on advising the largest steel producer in Slovakia in a process of financial restructuring and reorganisation, where the team of Slovak lawyers has been lead by Katarina Cechova, who served as the leading Slovak counsel to a bank consortium consisting of more than 40 international and domestic banks;
Participation and assistance on advising a private equity fund in the process of restructuring of group of companies, including a major producer of synthetic fibres in Slovakia;
Provision of legal advisory in corporate matters, commercial contracts, advertising of tobacco products and consumer protection for a major tobacco producer and distributor in Slovakia.
Professional Activities and Experience
Law Office Aliancia Advokatov, Bratislava, 1998-2000; the Firm since 2000
Articles
Additional Articles
Amendment to the Commercial Code in the Slovak Republic. In: International Business Lawyer (issued by International Bar Association), May 2002, p. 233-235.
Meet our Firms and Professionals
WSG's member firms include legal, investment banking and accounting experts across industries and on a global scale. We invite you to meet our member firms and professionals.