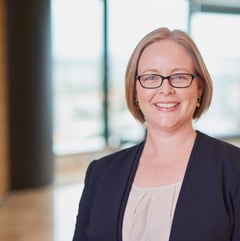 Cathy Lyndon
Special Counsel

Brisbane, Australia
Local Time: Thursday 09:26
Practice Expertise
Areas of Practice
Profile
I have a particular interest in helping employers understand and manage the myriad legal issues related to new technologies in the workplace – including privacy, discrimination and safety issues. My particular focus is on public sector employment, and I understand the legal and policy challenges facing government departments, agencies and corporations.
As well as day-to-day employee management issues, I also work with employers to develop their industrial strategies and negotiate enterprise agreements. I have considerable litigation experience and have defended employee claims and industrial disputes before a range of Tribunals, Commissions and Courts.
Career Highlights
Office of Public Sector Industrial Relations Queensland: Queensland Department of Health; Queensland Rail; Queensland Regional Councils – assisted with enterprise agreements, including providing bargaining strategy and procedural compliance advice; representing parties in the negotiation and arbitration stages; and urgent applications to managed industrial action
Australian Digital Health Agency; Queensland Government: Queensland Rail– provided high-level industrial strategy advice, including facilitating significant restructures and outsourcing arrangements
Australian Digital Health Agency; Queensland Department of Health: various Queensland Hospital and Health Services; Queensland Rail; Stanwell Corporation – advised in relation to everyday employment matters, including employment and independent contractor contracts, workplace policies, legislative and industrial instruments, flexible work requests, worker injuries, workplace privacy issues and disciplinary action
Queensland Department of Justice and Attorney-General; Queensland Public Service Commission; various Queensland Hospital and Health Services; Queensland Rail; Stanwell Corporation; Oil Industry Catering Services – represented employers in industrial disputes, unfair dismissal, general protections, bullying and discrimination claims, workers' compensation appeals and Supreme Court and Court of Appeal proceedings, including judicial reviews
Stanwell Corporation; Energy Developments Limited, Brookfield Multiplex Constructions, various Queensland Hospital and Health Services, Services Australia – advised in relation to workplace investigations, often involving extremely sensitive allegations, whistle-blower complaints, and matters before the Crime and Corruption Commission
Glencore Australia, Laing O-Rourke, Stanwell Corporation Limited, Queensland Public Service Commission, Australian Digital Health Agency – providing practical advice regarding privacy law issues surrounding the use and disclosure of workers' personal information, the management of employee data breaches and the complex interaction between privacy law and organisations' industrial and safety obligations.
Stanwell Corporation Limited, Moreton Bay Regional Council, and Aveo Retirement Villages – provided privacy advice in respect of CCTV systems, including assistance with privacy impact assessments, and submissions to the Office of Information Commissioner Queensland regarding application of Invasion of Privacy Act 1971 (Qld) and interaction with Information Privacy Act 2009 (Qld).
Education
BA (UNIVERSITY OF NEW SOUTH WALES, 1999); LLB (AUSTRALIAN NATIONAL UNIVERSITY, 2003); GRADUATE DIPLOMA OF LEGAL PRACTICE, SKILLS AND ETHICS (GRIFFITH UNIVERSITY, 2003)
Articles
'Super stapling' is here! What employers need to do


Here we explain how 'super stapling' works and the steps employers need to take to ensure they comply with the new rules.

The impact of Lee v Superior Wood


A recent decision by the Full Bench of the Fair Work Commission may seriously complicate the way employers collect personal information from employees. We discuss the impacts of the case below.

HR&IR Update | A glimpse at the changes proposed by the new Queensland Industrial Relations Bill 2016
On 1 September 2016, the Palaszczuk Government introduced the long awaited Industrial Relations Bill 2016 (Bill) to the Queensland Parliament.
From body cameras to self-analysing toilets - Privacy considerations with new technologies in the workplace

New Labour Hire Licensing Scheme 2018


Update from our HR&IR team about Queensland's new Labour Hire Licensing Regulation 2018.

The COVIDSafe app - five key considerations


The Australian government's contact tracing app 'COVIDSafe' is now available for download. How can the personal data collected be used? We set out five key considerations about the COVID-19 app, looking at how privacy is protected.

Facebook and employee privacy
Last week, in Jurecek v Director, Transport Safety Victoria [2016] VSC 285, the Victorian Supreme Court considered difficult issues when dealing with claims by a public sector employee that her employer had breached the Information Privacy Principles (IPPs) contained in the (then current) Victorian Information Privacy Act 2000, when it accessed her Facebook posts without her knowledge as part of a disciplinary investigation.
Meet our Firms and Professionals
WSG's member firms include legal, investment banking and accounting experts across industries and on a global scale. We invite you to meet our member firms and professionals.