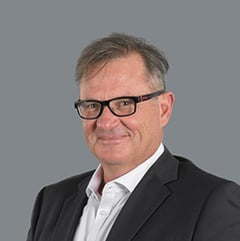 Practice Expertise
anglophone africa
BBBEE
capital markets
agribusiness
Areas of Practice
agribusiness
anglophone africa
BBBEE
capital markets
corporate commercial
corporate finance
insolvency, business rescue and debt recovery
international trade
mergers and acquisitions
mining
natural resources
private equity
regulatory compliance: JSE/TRP/FSB
retail
transport, rail and logistics
View More
WSG Practice Industries
WSG Leadership
DealMaker Group - Member
Mergers & Acquisitions Group - Member
Profile
Koos Pretorius is an executive in ENSafrica's corporate commercial practice, which is the largest practice of its kind in Africa. He served as department head of the firm's corporate commercial practice from 2002 to 2018 and now leads the corporate commercial business unit of the firm where he focuses on client relationships with certain key clients and strategic initiatives.
Koos continues to advise clients on a wide variety of transactions and specialises in M&A, private equity, corporate finance, corporate restructures, corporate crisis management and corporate governance.
Koos has acted for sector and industry leaders in renewable energy, oil and gas, financial services, banking, insurance, media, telecommunications, retail, wholesale, mining, transport and logistics, property, gaming, hospitality, agribusiness, eco-conservation, wildlife and private equity.
His experience includes commercial contracts, company law, corporate structuring and regulatory compliance, shareholder arrangements, joint ventures, rights offers and listings. He frequently interacts with regulators who supervise M&A activity in South Africa such as the Takeover Regulation Panel, the Johannesburg Stock Exchange, the South African competition authorities, the SA banking regulator and the SA financial services regulator.
Koos has extensive takeover experience, having assisted in hostile takeover bids, complex schemes of arrangement, and in transactions where companies and their shareholders enter into more sophisticated arrangements aimed at achieving specific strategic outcomes.
He is also experienced in ESG investments and initiatives on behalf of private individuals, family offices and private equity funds and advised on a number of eco-conservation and wildlife projects during recent years.
Koos has taken responsibility for many due diligence investigations and M&A activity over the past 32 years and a number of them have been in anticipation of an IPO, business combination or other M&A activity between listed companies.
He is a past member of the Ethics Committee of the Cape Law Society and, has presented modules of the LLM programme on advanced company law at the University of Cape Town and the University of the Western Cape. He is a regular contributor to various legal and commercial publications.
Education

BA (Stellenbosch University)
LLB (Stellenbosch University)
Leadership in Professional Service Firms (Harvard Business School)
Admitted as an attorney of the High Court of South Africa
Areas of Practice
agribusiness
anglophone africa
BBBEE
capital markets
corporate commercial
corporate finance
insolvency, business rescue and debt recovery
international trade
mergers and acquisitions
mining
natural resources
private equity
regulatory compliance: JSE/TRP/FSB
retail
transport, rail and logistics
Professional Career
Significant AccomplishmentsAwards / Accolades
• IFLR1000 2014, 2012 – Mergers and Acquisitions (South Africa)
• Best Lawyers 2013 – Corporate, Mergers and Acquisitions, Energy, Mining; 2012 – Mergers and Acquisitions, Mining; 2011 – Corporate; Mergers and Acquisitions; Mining (South Africa)
• Chambers and Partners Global Guide to the World's Leading Lawyers 2013 – Corporate Commercial: Mergers & Acquisitions; Banking and Finance (South Africa); 2012 - Corporate: Mergers and Acquisitions (South Africa)
• Legal 500's Guide to Outstanding Lawyers 2013 – Corporate Commercial: Mergers and Acquisitions (South Africa); 2012, 2010 - Private Equity; Corporate Commercial: Mergers and Acquisitions (South Africa)
• Guide to the World's Leading Mergers and Acquisitions Lawyers 2012 – Mergers and Acquisitions (South Africa)
• PLC Which Lawyer? 2012; 2011 – Corporate / Mergers and Acquisitions (South Africa)
• Legal Experts Europe, Middle East and Africa 2011 – Corporate and Mergers and Acquisitions (South Africa)
Professional Activities and Experience
Koos is recognised as a leading/recommended lawyer by:
Chambers Global Guide 2023, 2022, 2021, 2020, 2019, 2018, 2017, 2016, 2015 – Corporate Commercial: M&A (South Africa)
IFLR1000 Financial and Corporate Guide; M&A – 2023, 2022, 2021, 2020, 2019, 2018, 2017, 2016, 2015 (South Africa)
The Legal 500 EMEA 2023, 2022, 2021, 2020, 2019, 2018, 2017, 2016, 2015 – Commercial, Corporate and M&A (South Africa)
Who's Who Legal 2019, 2018, 2017 – Mining (South Africa)
Best Lawyers® 2023, 2022, 2021, 2020, 2019, 2018, 2017 – Corporate (South Africa); 2023, 2022, 2016 M&A; Lawyer of the Year: M&A (2019)