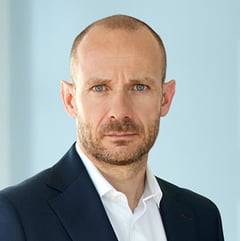 Practice Expertise
Data Protection Law
IP Law
E-commerce
IT Law
Areas of Practice
Data Protection Law
E-commerce
IP Law
IT Law
IT contracts
Marketing Law and Consumer Law
Operational Compliance
Outsourcing
Technology & Outsourcing
Technology, Media and Telecoms (TMT) Law
View More
WSG Practice Industries
WSG Leadership
Compliance Group - Member
Technology, Media & Telecommunications Group - Member
WSG Coronavirus Task Force Group - Member
Profile
Michael Hopp is a partner and head of our Data Protection Law team. 
Michael is a leading specialist in data protection law, and he was one of the first lawyers in Denmark to specialise within this area. He has built up a unique market-leading personal data team at Plesner.
Michael advises some of the most important Danish and multinational companies across industries on all aspects of data protection law, for instance data security, international data transfers, risk assessments, whistleblower hotlines and security breaches. He also has thorough experience of crisis management from handling a number of security breaches.
Michael has an extensive network, nationally as well as internationally, which he uses actively for knowledge sharing and solving specific tasks for clients.
Based on his long-standing experience with respect to personal data law and data protection, Michael has been involved in launching several innovative initiatives in the industry. Michael is in charge of Plesner's GDPR Master Class and Plesner's 4-day course "Plesner Certificate in Data Protection" which have had more than 700 participants. In addition, Michael was involved in launching the popular compliance software RISMAgdpr and Plesner's GDPR e-learning programme and he recently initiated Plesner's digital knowledge platform "Plesner LegalHub". 
Michael has in-depth knowledge of data-driven marketing and particularly the commercial gains to be made from using data-driven marketing. Michael is a value-adding adviser, particularly with respect to the dynamic interpretation of legislation relating to the diffusion of new technologies. 
Bar Admissions

Danish Anti-Counterfeiting Group
Danish Association for the Protection of Industrial Rights
The Association of Entertainment and Media Law
AIPPI
Education
2014 Certified IT-Attorney
2009 Admitted to the Danish High Court
2004 Professional Specialization Certificate in International Intellectual Property Law, University of Victoria, Canada
2003 Admitted to the bar
1998 Master of Laws, University of Copenhagen
1996-1997 Manchester Metropolitan University
Areas of Practice
Data Protection Law
E-commerce
IP Law
IT Law
IT contracts
Marketing Law and Consumer Law
Operational Compliance
Outsourcing
Technology & Outsourcing
Technology, Media and Telecoms (TMT) Law
Professional Career
Professional Activities and ExperienceAccolades
2022 Legal 500
2022 Chambers Europe
2021 Legal 500
2021 Chambers Europe
2020 Legal 500
2020 Chambers Europe
2019 Legal 500
2019 Chambers Europe
2018 Chambers Europe
2018 Legal 500
2017 WhosWho
2017 Chambers Global
2017 Chambers Europe
2017 Legal 500
2016 Chambers Global
2016 Chambers Europe
2016 Legal 500
2016 WhosWho
2015 Chambers Global
2015 Chambers Europe
2015 Legal 500
2014 Chambers Global
2014 Chambers Europe
2014 Legal 500
2013 Chambers Global
2013 Chambers Europe
Articles
Interpretation of "Civil rights and obligations", ECHR, art. 6(1)), Justitia, 1998
"Denmark: The end of cloud computing as we knew it?", Privacy Law & Business International, Vol. 119, October 2012
Meet our Firms and Professionals
WSG's member firms include legal, investment banking and accounting experts across industries and on a global scale. We invite you to meet our member firms and professionals.