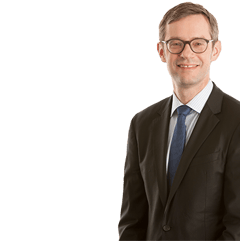 Practice Expertise
Art, Entertainment & Sports
Data Protection
Healthcare & Life Science
Financial Services
Areas of Practice
Art, Entertainment & Sports
Data Protection
Financial Services
Healthcare & Life Science
Healthcare & Life Sciences
Information Technology & Telecommunications
Intellectual Property & Technology Transfer
Media & Communications
Outsourcing
View More
WSG Practice Industries
WSG Leadership
Intellectual Property Group - Member
Patent Law Group - Member
Technology, Media & Telecommunications Group - Member
Profile
Michael Isler is a partner and member of the management board in the product groups Intellectual Property, Information Technology and Data Protection. He regularly advises in complex outsourcing, technology transfer and platform projects from the conceptual and negotiation phase to dispute settlement. He further enjoys a vast experience in copyright, trademark and patent law. A particular focus of his work is dedicated to the life sciences and health sector. Michael Isler regularly publishes and lectures in his practice areas and takes an active role in several professional organizations. He is co-editor of Life Science Recht, the Swiss law journal for pharma, biotech and medtech.
Born in 1974, Michael Isler was educated at the Universities of Zurich (lic. iur. 2000) and Louvain and also holds a doctoral degree from the University of Lucerne (2011). Before joining a major law firm in Basel and Zurich in 2010, has worked for several years as inhouse counsel at a technology group and a global telecom infrastructure and service provider. He arrived at Walder Wyss in 2014.
Michael Isler"s professional languages are German and English. He also speaks French and Dutch. He is registered with the Zurich Bar Registry and admitted to practice in all Switzerland.
Bar Admissions
He is registered with the Zurich Bar Registry and admitted to practice in all Switzerland.
Areas of Practice
Art, Entertainment & Sports
Data Protection
Financial Services
Healthcare & Life Science
Healthcare & Life Sciences
Information Technology & Telecommunications
Intellectual Property & Technology Transfer
Media & Communications
Outsourcing
Professional Career
Significant Accomplishments
Forterro erwirbt myfactory, Anbieter von ERP-Softwarelösungen
Sevensense Raises USD 7.7m Series A
Nautilus acquires Swiss motion tech company VAY
Hitachi ABB Power Grids lagert Betrieb der IT-Infrastruktur an HCL Technologies aus
Walder Wyss zählt zu den 100 besten Datenschutz-Kanzleien weltweit
OTTO'S obsiegt vor Bundesgericht gegen die Otto Group
Afinum steigt bei Messenger App Threema ein
ABB lagert Hosting-Infrastruktur und -Management an Tata Consultancy Services (TCS) aus
WiseTech Global erwirbt SISA Studio Informatica SA
Lindsay Goldberg übernimmt Bilcare Research Group
Neuraxpharm Group steigt mit der Übernahme der S.T.U. GmbH in den CBD-Markt ein
Walder Wyss berät bei Einrichtung der Operational Technology Cyber Security Alliance (OTCSA)
Recordati erwirbt Rechte an Signifor und Osilodrostat
Ringier Axel Springer Schweiz beteiligt sich an digitalCounsels
Sobi erwirbt NovImmunes Immunologie Sparte in CHF 515 Mio. Transaktion
GetYourGuide gibt USD 484 Mio Series E Finanzierungsrunde bekannt
SBA: Cloud-Leitfaden - Gutachten zum Bankkundengeheimnis
Mobile Cryptocurrency Wallet BRD führt USD 15 Mio Series B Finanzierungsrunde durch
SWICA Gesundheitsorganisation erhält eine Bewilligung für telemedizinische Behandlungen im Kanton Zürich
DPE erwirbt AWK Group
Baloise erwirbt Movu
Strategische Partnerschaft zwischen Sanofi und Lonza
RWS acquires LUZ, Inc.
BASF erwirbt Rolic-Gruppe
Beförderungen bei Walder Wyss
Apax / Unilabs
Recordati erwirbt Pro Farma AG
BLKB investiert in Robo-Advisor True Wealth
J. Safra Sarasin Holding AG erwirbt Credit Suisse (Monaco) S.A.M. und Credit Suisse (Gibraltar) Limited
P&I Personal & Informatik AG übernimmt Geschäftsbereich HR der Soreco AG
Articles
Cybersecurity
Aktuelle Herausforderungen beim Handel mit Medizinprodukten zwischen der Schweiz und EU
Kommentar zu Art. 5, 6 und 7a HMG
Outsourcing 2021 - Chapter Switzerland
Software/Apps als Medizinprodukte
Datensicherheit und IoT
OTTO'S vs. OTTO – Wann hat die erworbene Unterscheidungskraft nach Wettbewerbsrecht Vorrang vor Markenschutz?
CLOUD Act und der Schutz von Geschäftsgeheimnissen
§ 5 Daten und Geistiges Eigentum
Portabilität für Schweizer Reisende
Outsourcing 2020: Kapitel Schweiz
Der Werk- und Wirkbereich bei Wortwerken
Die Rollenverteilung in klinischen Versuchen
Well-known trademarks in the context of a product's culinary origin
Die EU-Richtlinie über Medizinprodukte und die Schweiz
Verwendung von verwaisten Werken - Sicherungsexemplare - Verwendung von Werken durch Menschen mit Behinderungen - Wissenschaftsschranke - Verzeichnisprivileg
Outsourcing: Chapter Switzerland
Stellungnahme Walder Wyss: Vernehmlassung zum Bundesgesetz zur Anpassung des Bundesrechts an Entwicklungen der Technik verteilter elektronischer Register
Neues zum digitalen Nachlass
Internetsicherheit – Schweiz 2019
Gutachten - Zulässigkeit der Bekanntgabe von Bankkundendaten durch schweizerische Banken an Beauftragte im Ausland unter Art. 47 BankG
Legal Opinion - Permissibility of disclosure by Swiss banks of bank client information to agents in foreign countries un-der article 47 of the Banking Act (BA)
Mobile App zur natürlichen Empfängnisverhütung ist ein Medizinprodukt. BVGer C-669/2016 vom 17. September 2018
Fintech - Schweiz
Off Label Use von Medizinprodukten. Zulässigkeit und Rechtsfolgen aus Sicht des Herstellers, des Anwenders und des Patienten
Initial Coin Offering – Von Kryptowährungen bis hin zur Unternehmensfinanzierung
Internetsicherheit – Schweiz 2018
Initial Coin Offering - Raising Millions in Seconds
Datenschutz auf der Blockchain
Datenschutz und Social Media im Unternehmensalltag
Initial Coin Offerings in Switzerland
Fintech - Schweiz
Keyword Advertising
FinTech Regulation: Blockchain, Robo Advice, Initial Coin Offerings
§ 35 Einführung in die Grundlagen und die Systematik des schweizerischen Medizinprodukterechts
Kommentar zu Art. 13 und 14 des Bundesgesetzes über den Schutz von Marken und Herkunftsangaben des Bundesgesetzes über den Schutz von Marken und Herkunftsangaben (MSchG)
Buchbesprechung: Rolf H. Weber/Christian Laux/Dominic Oertly: Datenpolitik als Rechtsthema – Agenda für Open Government Data
Keyword Advertising
Fintech – Schweiz
SmartMoney – Daten als Währung
Lifestyle- oder Medizinprodukt?
Cybersicherheit – Schweiz 2016
Im Kreuzfeuer der Beacons – Kundenanalyse und Kundensteuerung am Verkaufspunkt (und darüber hinaus...)
Die Funktion des Geistigen Eigentums in einem dienstleistungsbasierten Technologieumfeld
Ausgewählte Aspekte von Online Marketing, Social Media und Apps im Life Science-Bereich
Meine Daten machen meinen Preis
Lösungsvorschlag Fall II «Der Bootsausflug»
§ 47 Lizenzvertrag und § 48 Alleinvertriebsvertrag
Immaterialgüterrecht – Schweiz
Mobile Medical Apps: Patient Datenschutz
Technology, Media and Telecommunications – Switzerland
Risiken und Nebenwirkungen von Gesundheits-Apps
Innovation im Unternehmen: Wer hat's erfunden?
Investitionsschutz in der ICT-Beschaffung
Gesundheitswesen und mobile Kommunikation: Was sagt das Recht?
Technology, Media and Telecommunications – Switzerland
Nach dem Outsourcing ist vor dem Outsourcing – Planung und Durchführung eines Providerwechsels
Impressumspflicht im E-Commerce
Der Direktanspruch in internationalen Vertragsketten – Die vertragliche und vertragsnahe Haftung von Subunternehmern und Substituten gegenüber dem Auftraggeber im IPR und IZPR
E-Commerce: Konsum ohne Grenzen – Rechtsschutz mit Grenzen (Aspekte des IZPR und des IPR)
Der Rechtsschutz im Personenfreizügigkeitsabkommen zwischen der Schweiz und der EG sowie den EU-Mitgliedstaaten
Meet our Firms and Professionals
WSG's member firms include legal, investment banking and accounting experts across industries and on a global scale. We invite you to meet our member firms and professionals.