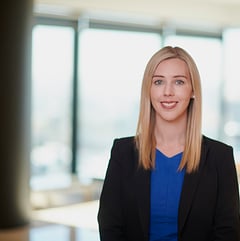 Rhian O'Sullivan
Special Counsel

Brisbane, Australia
Local Time: Thursday 09:36
Practice Expertise
Litigation and disputes
Employment
Areas of Practice
Employment
Litigation and disputes
Profile
I advise on the full spectrum of employment law matters.
I have particular expertise in work health and safety, and assist my clients in the immediate aftermath of a safety incident including in relation to any investigation or enforcement activity by the safety regulator.
My practice includes providing advice in relation to safety regimes and legal compliance. I regularly deliver training sessions on obligations under the harmonised safety regimes, including to Boards.
I have undertaken a number of reviews of work health and safety governance systems for compliance and I have assisted in the defence of a number of work health and safety prosecutions and coronial inquests.
I advise private and public sector clients in industries including mining, energy, construction, education, health and insurance and have assisted in the conduct of litigation in courts and tribunals in State and Federal jurisdictions.
Career highlights
Advising numerous clients in relation to safety governance frameworks including in the construction, rail and energy industries.
Managing complex work health and safety investigations and engaging with Queensland safety regulators including Workplace Health and Safety Queensland and the Department of Natural Resources, Mines and Energy.
Incident management including attending site in the immediate aftermath of a safety incident and attending interviews with safety regulators.
Reviewing work health and safety policies and procedures.
Providing strategic advice in relation to work health and safety issues and the practical requirements of the officer due diligence obligations.
Successfully defending safety prosecutions under both mining and general safety legislation, and managing the conduct of a coronial inquest following a workplace fatality.
Advising clients in relation to a range of employment law issues such as unfair dismissals, general protections claims and discrimination and harassment claims as well as reviewing employment contracts and workplace policies.
I have undertaken secondments at Ergon Energy and Energex as acting in-house legal counsel.
I was previously the Associate to the Honourable Justice Martin Daubney of the Supreme Court of Queensland.
Articles
Queensland's first industrial manslaughter prosecution sentence against an individual


Queensland's work health and safety prosecutor, Aaron Guilfoyle, has commenced the first industrial manslaughter prosecution against an individual in Queensland.

What to do after receiving a statutory notice from the regulator


We outline some key issues to consider if you receive a statutory notice from the regulator.

MEROLA 2020 industrial manslaughter and other safety amendments


Queensland's MEROLA 2020 bill will introduce industrial manslaughter offences into the coal, mining and quarrying, explosives and oil and gas safety regimes in Queensland.

Queensland's first jury conviction for industrial manslaughter


On 25 March 2022, Jeffery Owen became the first person to be found guilty of industrial manslaughter since the offence was introduced in Queensland in 2017. This case is being watched closely by business, boards and executives given there have been limited industrial manslaughter charges in Queensland since its introduction in 2017.

Heat stress death results in $65K fine


The issue of heat stress and managing workplace risk with respect to heat stress is an increasing area of interest for safety regulators. A sole trader employer, Bradford Clark Rosten (Rosten), was recently prosecuted for the heat stress related death of a backpacker.
Meet our Firms and Professionals
WSG's member firms include legal, investment banking and accounting experts across industries and on a global scale. We invite you to meet our member firms and professionals.