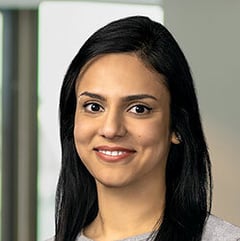 Zahraa Tawfeeq
Immigration Business Analyst

Practice Expertise
Areas of Practice
Profile
Detailed, communicative immigration guidance
Zahraa Tawfeeq is experienced, detail-oriented, organized, highly motivated and employs excellent communication skills in support of the business immigration team and clients. Her responsibilities include:
Preparing U.S. employment-based immigrant and nonimmigrant visa filings to the U.S. Department of Labor, U.S. Citizenship and Immigration Services, U.S. Department of State and U.S. Customs and Border Protection.
Compiling immigration eligibility documents and analyzing individuals' potential immigration benefits, including H-1B, I-140 and Adjustment of Status.
Drafting PERM Labor Certification advertisement text, prevailing wage determinations, recruitment documents and ETA 9089 PERM applications.
Overseeing applications to ensure compliance with immigration laws and communicating directly with vendors for efficient processing.
Education

University of Baghdad (B.S., 2007)