Asia Employment Law Bulletin 2022 - Philippines
May, 2022 - Leslie Dy, SyCip Salazar Hernandez & Gatmaitan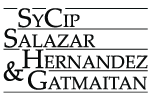 Developments in light of COVID-19
Unlike previous years, there were no major legislations or government regulations on labor and employment issues in 2021. Government regulations issued in 2020 in response to the COVID-19 pandemic were largely retained, withagencies only tweaking policies pertaining to business operations and capacity, overseas employment, and admission of foreigners for local employment, among others, depending onthe COVID-19 infection rate and cases at therelevant time.
Vaccination
The Philippines has no vaccination mandate, but it has retained its policy of prohibiting employers from imposing vaccination as a condition for continued employment. This means that an employee cannot be dismissed from employment solely on account of his or her refusal to get vaccinated. With the increasing availability and accessibility of vaccines towards the latter half of 2021, however, the government allowed employers toban unvaccinated employees from entering office premises, particularly in areas where there is a sufficient supply of COVID-19 vaccines. To be allowed to work in the office, anemployer may require its unvaccinated employees to take an RT-PCR test every two weeks, or antigen test, if the RT-PCR test is not immediately available, at the sole expense of the employee. For partially vaccinated employees, the regulations provide that they are not required to undergo regular RT-PCR test at their own expense, as long as their second dose is not yet due pursuant to the interval prescribed for the brand of vaccine received as first dose. At the time of writing however, the government has yet to issue an official list of those areas where the supply of COVID-19 vaccines is sufficient.
Digital workforce
With the rise of the gig economy precipitated by the pandemic, we expected that the government would focus on strengthening legislation regulating freelance work in the digital world. However, bills on this subject remain pending in Congress. This includes Senate Bill No. 1469 or the National Digital Careers Act, which aims "to create, design and develop programs to ensure access to training, market and other forms of support or innovation strategies for digital careers" and is currently pending in the Philippine Senate. Another similar bill is SenateBill No. 1834 or the Philippine Digital Workforce Competitiveness Act, which defines the "digital workforce" as "any natural person who engages in remunerated activity through the use of digital skills and digital technology, regardless of work or employment arrangement, whether as a regular employee ofa company or as a freelancer."
One could say that the Philippines largely retained the status quo in terms of employment regulations in so far as COVID-19 is concerned, understandably hampering the government's ability to declare the country fully open for business. The country continues to adapt to thenew normal. The start of 2022 saw a surge in Omicron variant cases, with cases topping 33,000 in early January. So far, the government has neither issued changes in its current employment regulations nor put in place a strict lockdown similar to that implemented at the onset of the pandemic in 2020. While the private sector is bracing for greater restriction in its operations, it remains resilient. Recent numbers released by the Philippine Statistics Authority show that "employment in the country improved with a reported 43.83 million employed persons in October 2021, up from 39.84 million employed persons in the same period last year." For reference, in July 2021, the number of employed persons was 41.67 million.
With the forthcoming National Elections scheduled in May 2022, no new legislation is expected to be approved. The business and labor sectors will certainly pay careful attention to the legislative employment agenda of each presidential candidate who will be serving a term of six years. In the next five months, when the Omicron surge will have hopefully passed, economists are optimistic that business in the country will recover and steadily improve and the more important employment legislation will be passed into law.
This was originally published on the Freshfields Bruckhaus Deringer site.
MEMBER COMMENTS
WSG Member: Please login to add your comment.