Member Value & Brand Awareness: WSG Automation Tools
WSG's informative, on-demand Automation & Engagement Training Webinar focuses on the WSG Automation Tools that allow your firm to easily keep firm professionals, news, articles and other content uploaded and up to date. Doing so contributes directly to the strength of any firms' digital profile and allows members to focus on increasing engagement and strengthening relationships.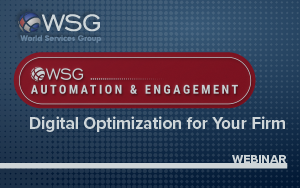 Learn More About:
Content Distribution - Put your firm at the top of online searches by adding your firms' content to the WSG website to increase your exposure and reach across the web.
Synchronizing for Efficiency - Synch your firms' information with the WSG Automation Tools to achieve efficiency.
Data Consistency - Keeping relevant is key. Use the WSG digital resources to help ensure consistent and updated information across your digital profiles
.
Watch now to learn more on WSG's Automation Tools and resources available to your firm. You can also contact our staff here for more information


WANT TO CONNECT?