Drawing on a detailed survey of over 200 general and senior counsel working at a variety of companies across both the US and Canada including many of the global leaders in their sectors, our detailed survey results show that most all legal teams in North America are using more tech more is never enough. tech has not been quite the disrupter many predicted.
---
Apple, Amazon, Facebook, Google, Microsoft, Netflix – the last year and a half has been hard, but without these familiar names it would have been unthinkable.
Ever since Bill Hewlett and David Packard founded HP in a Palo Alto garage in 1937, the young and tech-smart have been engines of economic growth across the US. Pandemic aside, the S&P 500 is surging at an all-time high, with companies in the tech sector proving to be the safest bet.
Five of the above listed companies alone – Apple, Amazon, Facebook, Microsoft and Google-parent Alphabet – already represent over 20% of the S&P 500's total market cap. With the pandemic-induced shift to e-commerce and remote working, it is a trend that is unlikely to end any time soon.
Surely in the US, with an economy skewed heavily toward innovation and a premium placed on doing things better, faster and smarter, the lawyers must be doing things differently? Well, not quite. For all the talk of a quiet revolution taking place in the corporate legal teams of US and Canadian blue chips, the reality is much more complicated.
To make sense of it all, GC magazine teamed up with World Services Group to get the inside story on legal tech in North America. Drawing on a detailed survey of over 200 general and senior counsel working at a variety of companies across both the US and Canada – including many of the global leaders in their sectors – our findings show that tech has not been quite the disrupter many predicted. Yet…
Stacking it up
In spite of the advantages legal teams in the US and Canada have when it comes to the availability of legal tech, many feel they are no further ahead in their adoption of new ways of working.
Fewer than half of respondents to our survey (46%) felt that their teams were in a good place to capitalise on technology compared to their peers. Even more surprisingly, legal teams in the tech sector were just as likely to struggle as those in other industries. Just under two thirds (60%) of respondents working for technology businesses felt confident that they benchmarked favourably in their use of legal tech. In fact, across all the sectors surveyed, those employed in the tech industry (broadly defined) were among the least likely to feel that their use of technology was adequate.
Of course, they were also the most likely to be aware of the technological shortcomings of the legal team. As Liz Benegas, GC of enterprise management software provider Totango, comments:
'When you're in an environment that really pushes technology as a solution to business problems, you can find yourself asking a lot more questions about how you approach your own work. That can lead to a lot of new ideas, but it also puts you under pressure to bring your "A" game to everything you do.'
Another respondent, senior counsel at a global technology business, gives an even simpler answer: change is hard, particularly when it comes to tech.
'[Our company] is generally seen to be at the forefront when it comes to bringing tech to market, and I would say we are way ahead of the curve in terms of our own use [within the legal team].
But still, large parts of what we do are built onto a tech stack that has been around for years. When we look to introduce a new contracting system or cloud-based technology we can't just assume it will work well with what we have in place. I would imagine these problems only increase when you've got an older or more complicated stack to deal with.'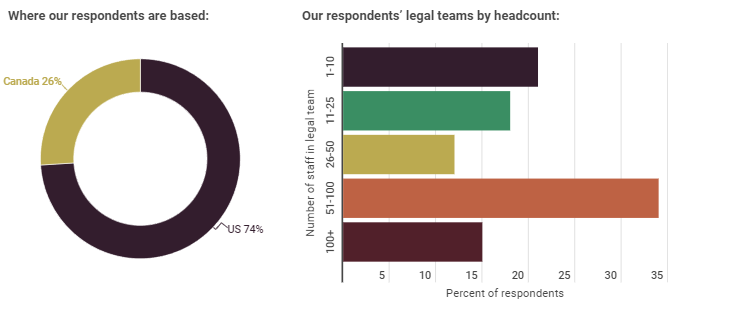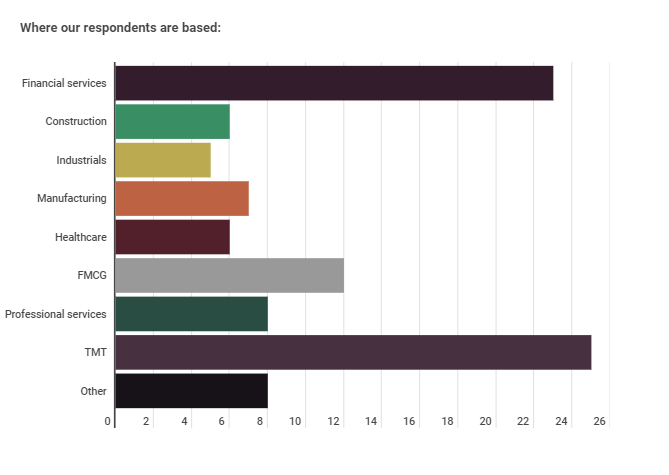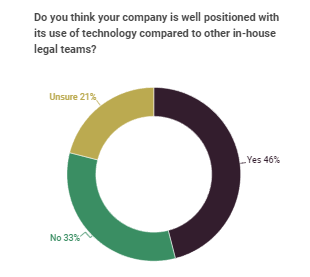 Plus ça change
For many general counsel the first year of working in-house comes as an epiphany. The experience of working at a law firm had shown them a world where partners and associates – often some of the most capable, knowledgeable and dedicated people they had ever known – were forced to work in an environment that either did not seem to support them or that actively worked against them by making highly-qualified people undertake work in an absurdly inefficient fashion. After making the move in-house, the realisation comes: "It's not the law firms, it's the lawyers".
The average GC continues to have the same worries that their team is behaving in an inefficient or technologically unsophisticated way. The central problem, as one senior counsel at a global entertainment and media company observed, is how to continue to deliver value while eliminating bottlenecks. 'Lawyers will not be replaced by technology, just as doctors will not be replaced by technology.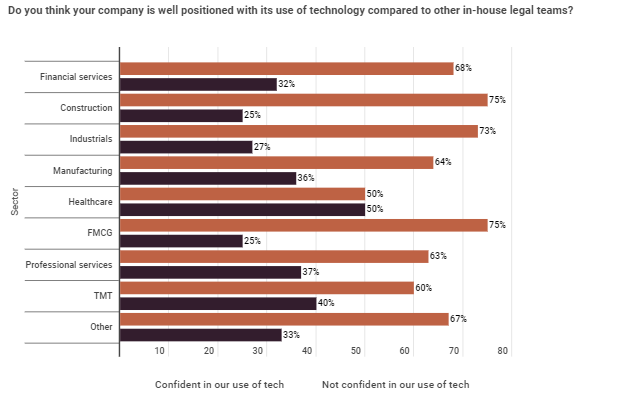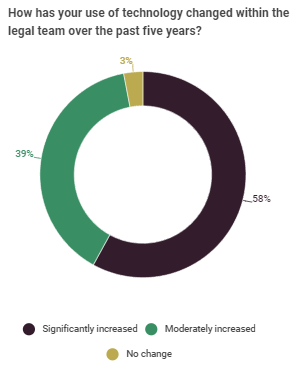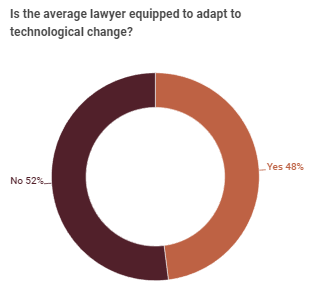 The problem we must solve is how we get rid of bad habits while retaining the good ones. That is something we are only just starting to find answers to.'
The problem with technology, respondents to our survey agreed, is not having too little of it. It is having too many resources that are not used properly. Legal teams in North America are, for the most part, able to access the tools and systems they want. In fact, nearly all of those we surveyed (97%) reported that their legal functions were using more technology now compared to five years ago, with well over half (58%) saying they were using significantly more tech.
But having access to technology is only ever a partial solution to the problem of efficiency. Knowing what to do with it is just as important, and it is often not within the skillset of GCs to make sure a department is joined up when it comes to its use of technology.
Our survey shows North America's in-house lawyers are less worried about technology than they are about their profession's ability to use it effectively. Fewer than half (48%) of those polled said they were confident in their team's ability to harness tech effectively.
Positive externalities
If anything is likely to push legal teams to adopt technology, it will be a global pandemic that has forced large numbers of businesses to shift to remote work. The first challenge for many legal teams when the call to work from home was issued was the realisation that existing ways of tracking and managing work were no longer going to cut it. Knowing what the team is doing can be relatively simple when most of its members are sitting in the same office. Asking, "What are you busy with right now?" over Zoom is not entirely practical.
While it is no surprise to see that 67% of those surveyed said their businesses had ramped up investments in tech as a result of the pandemic, the direct – and, many suspect, lasting – change this has had on the way legal teams handle work is something that caught a number of respondents off guard.
Nearly four fifths (78%) of respondents reported making greater use of technologies such as Zoom and Teams to keep their departments functioning during lockdown, while nearly half (48%) had moved their work onto platforms shared with the rest of the business to make handling matters more effective.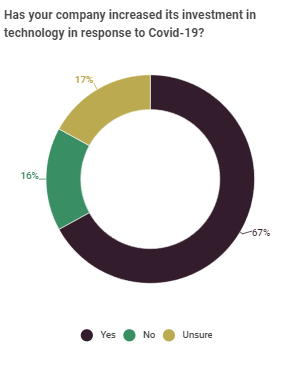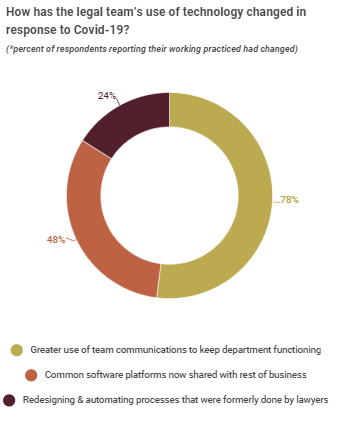 'What Covid really did', comments one general counsel for a medium-sized US software company, 'was shine a light on how poorly aligned a lot of departments were across the business. It forced us to move from a situation where everyone had developed their own practices and habits – either as a team or as an individual – to a situation where we all had to move in lockstep to keep the planes from falling out the sky.'
But finding new ways to manage workflows is only the start of it. When nobody can leave their house, getting documents signed is a problem. Except it is not. As many legal teams have come to realise, the problem was relying on ways of thinking and acting that had already outlived their utility.
By forcing teams to rethink the ways in which legal work is completed, Covid has given impetus to a far more radical transformation in the in-house legal function. Nearly a quarter (24%) of the teams surveyed said that they had already redesigned their processes to cope with lockdown, and the results have been positive. As one respondent, director and assistant general counsel for a US-headquartered multinational consumer goods corporation, put it: 'Having to serve business remotely was probably the best thing that ever happened to us.'
'With the call to "work from home where possible" we had to take a step back and think about what it actually means to support the various divisions of our business. That was a moment of crisis, but it was also a period of productive reflection.
Instead of automatically following the same steps each time without ever thinking about outcomes, we had to think about what the intended outcomes were and plot the best path to them. Sure, we still have to process sales requests, but do we need people to do it, or is there some better way of getting to the same point?'
Now, as many lawyers return to the office, there is a feeling that legal work will never be quite the same as before. As Michael Shour, GC and secretary for Banyan Software, comments, 'Especially with the Covid pandemic, it just makes so much sense for a lot of this stuff to move online. Whether it's sharing information with colleagues or signing documents, we have seen how easy it is to digitise this type of thing and it will be very difficult to unlearn those lessons and go back to the old ways of working.'
---