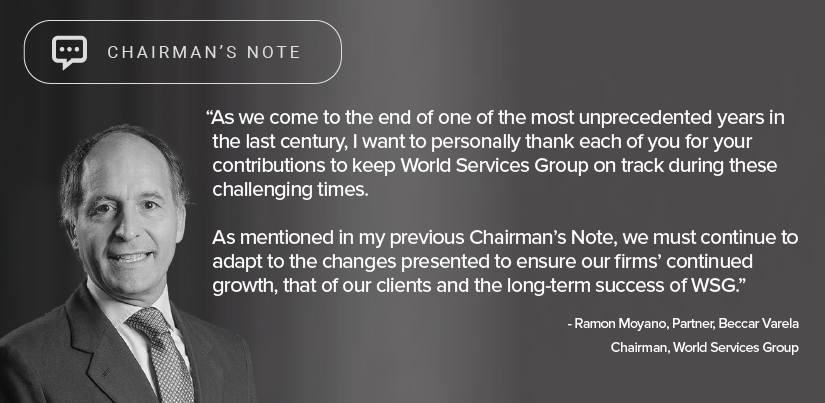 Dear WSG Members,
As we come to the end of one of the most unprecedented years in the last century, I want to personally thank each of you for your contributions to keep World Services Group on track during these challenging times.
As mentioned in my previous Chairman's Note, we must continue to adapt to the changes presented to ensure our firms' continued growth, that of our clients and the long-term success of WSG.
The pandemic has required us all to reprioritize and value the accessibility technology has offered for many years. As we all shifted to video conferencing meetings, so too did WSG quickly shift all in-person events to virtual ones, and the power of the platform became more valuable to all members. In 2021, we expect the organization's digital footprint to continue growing its offerings to include more Practice Group-specific webinars, Regional Council webinars, a Quarterly Lecture Series, and more.
Investments in technology, talent and corporate sustainability best practices will remain at the core of the continuing growth of our industry, a focus that is also at the foundation of WSG. Thus, I encourage you to attend and contribute to the many virtual events and webinars that are being offered to further grow your involvement and value in WSG. It has been truly marvelous to see how member firms contributed and complemented each other in solving, adapting, and providing support throughout this challenging year.
The coming year brings promise, not only in the form of approved COVID-19 vaccines, but also as a way for WSG to be a more inclusive network for all member firms through its virtual offerings. As an active WSG representative in your firm, I encourage you to communicate the value of the network throughout your firm and to clients. By taking a strategic approach to our proprietary digital platform, empowering emerging leaders across our network, as well as improving training and accessibility to technology for all our membership, WSG is committed to ensuring that we are properly prepared to capitalize on the growing wave of technological innovation, for the benefit of both our members and clients.
On behalf of the Executive Committee and the WSG Board of Directors, I wish you all the best for the year ahead and I encourage you all to assist in the sustainability and growth of WSG and the network's upcoming initiatives.
Sincerely,
Ramon Moyano
Chairman
World Services Group


WANT TO CONNECT?