WSG Blog
Be Prepared: 5 Steps to Make 2019 Your Best Year Yet
Now is the time to plan for the upcoming year. Whether you are preparing as head of the firm's practice, for your personal clients or for general firm goals, follow the example below to establish reachable goals for any practice area, resource or strategy and keep the pace throughout the year.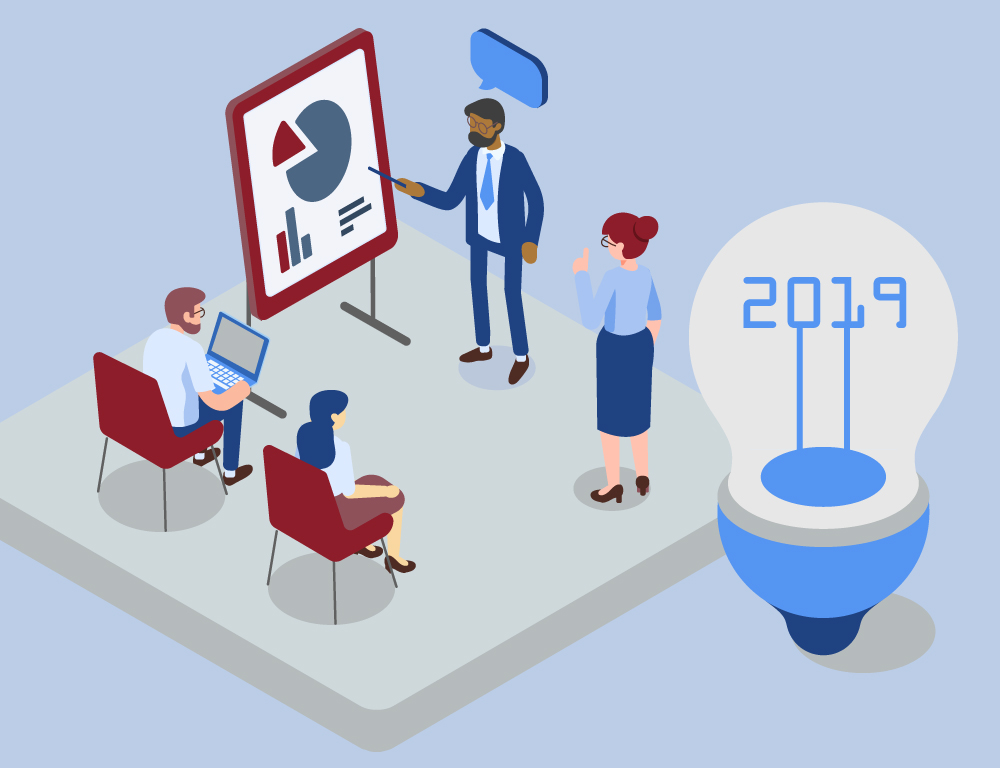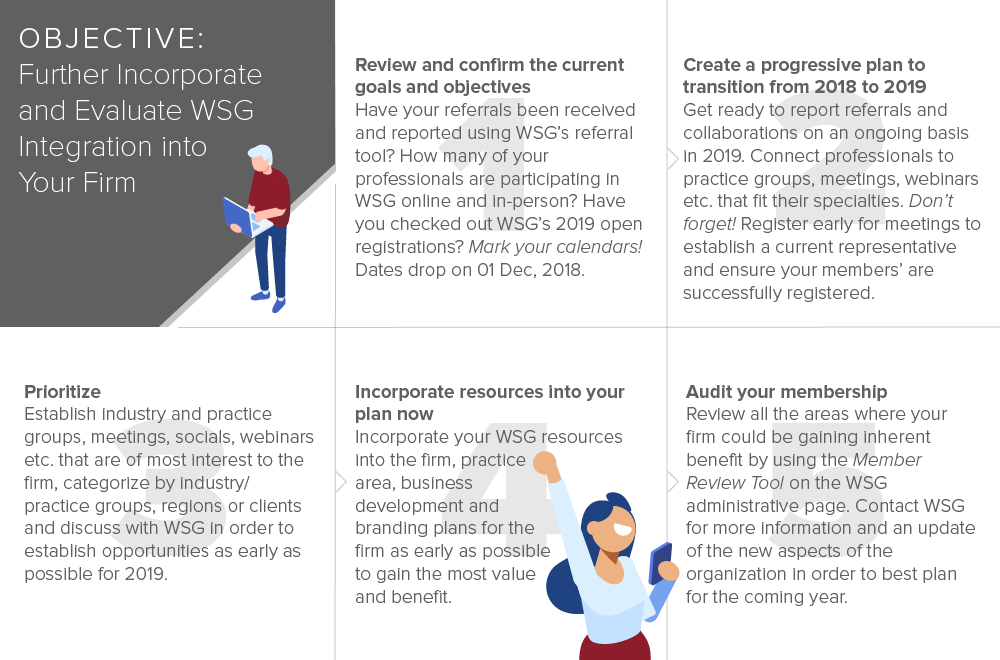 Planning, Strategy and Budgets - Five Steps to Prepare for 2019
Every year is the same; it is October, and we all wonder where the time has gone. Unfortunately, it does not matter. Now is the time to plan for the upcoming year. Whether you are preparing as head of the firm's practice, for your personal clients or for general firm goals, follow the example below to establish reachable goals for any practice area, resource, or strategy.
Objective: Further Incorporate and Evaluate WSG Integration into the Firm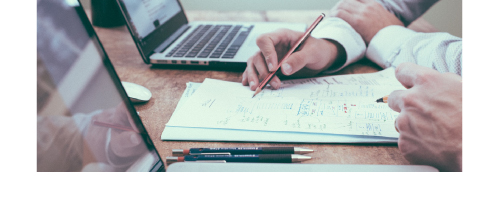 Review and confirm the current goals and objectives

Review referrals received and referred. Ensure they are reported in WSG's referral tool.
Review number of professionals participating in WSG activity in-person and digitally.
Review and monitor confirmed dates and open registrations for 2019 to be announced by 1 December or earlier.

Create a progressive plan from 2018 to transition into the 2019 goals and objectives

Report referrals and collaborations on an ongoing basis in 2019 to assist in evaluations and adjustments to the goals throughout the year.
Assign or approach firm professionals from different practice areas about participating in groups, meetings, networking, webinars etc. in advance in order to coordinate activities for 2019. Define a reporting approach to learn about their experiences.
Register early for meetings to establish a current representative and a new attendee increasing integration and succession planning for firm resources.

Prioritize

Establish industry/practice groups, meetings, networking, webinars etc. that are of most interest to the firm, categorize by industry/practice groups, regions or clients and discuss with WSG in order to establish opportunities as early as possible for 2019.

Incorporate resources into your plan now

Incorporate your WSG resources into the firm, practice area, business development and branding plans for the firm as early as possible to gain the most value and benefit.

Audit your membership

Review all the areas where your firm could be gaining inherit benefit by using the Member Review tool on the WSG administrative page. Contact WSG to learn more about the many ways to gain the most benefit, and receive an update of the new aspects of the organization in order to best plan for the coming year.
While this is a sample of planning for WSG integration into the firm, these 5 easy steps can be used to plan for any objective. Planning allows us to be more structured and focused, but most importantly, it enhances our ability to work and thrive when the chaos inevitably happens. We can be pulled in many directions because we integrate new projects and obligations. The plan is in place to efficiently maneuver through the commotion. Planning is critical to our ability to function at our most powerful levels and accomplish our highest priorities.
WSG Tools & Resources: The Power of Automation
In today's landscape of complex digital communication, successfully navigating such sophisticated platforms is a difficult task to master. Content automation should be a term you are hearing more often, whether it is your firm's website, social media network, email distribution, or any other channel. It's a comprehensive solution to help stay current, identify opportunities and track metrics.
WSG has built the network integrated with technology using automated implementation to propel firm branding, expert recognition and success value to new heights. Using profile management and publication distribution, WSG's automation tools are provided to improve your profile's effectiveness while also allowing you to share your firm's content. Using content automation, informational data is kept current and your distribution channels are exponentially increased. Here is a description of two of the most commonly used automation tools within the network.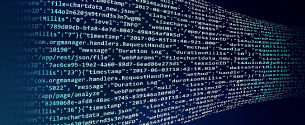 Harmonize Your Profile Across the Firm, WSG and Google
WSG's Import Module was designed to ensure the changes made to a member's home site are in sync and accurately depicted on their WSG profile. The tool maps out all profile source information capturing any updates instantly. This improves your firm's searchability and visibility and creates one less marketing channel to worry about keeping updated.
Distribute Expertise Across More Channels
By using publication automation, articles, press release and blogs published can be uploaded to WSG's site with the simple click of a button. This automation tool removes the need for the member to manually copy-paste their news and press submissions and allows submitting accurate information. As well as with the member blogs, the latest blog post rotate and post onto the WSG member blog roll throughout the day. It is easier than ever to share your firm's news-related content and publish onto the WSG site and this can be accomplished with just a few clicks.
Make Automation Work for Your Firm
Automation is becoming a mainstay in all industry practices and will soon be a standard part of all professional services. When properly implemented, it's a key benefit in building the awareness of your firm and establishing your brand. These tools are provided to ensure your content marketing and WSG membership achieve the highest levels of success by automating and sharing relevant, desirable and accurate content. Please contact the WSG marketing team to discuss how to get started and which of these features are right for your firm.